Pizzerie Eccellenti 2020
Ammaccàmm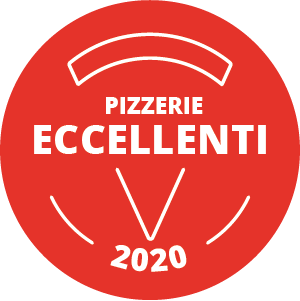 The menu here centers around the dough, which is created from flours made with various cereals and incursions of spices and seeds. A rational use of sourdough and yeast and a lengthy leavening are the basic techniques used.  The dough is designed to enhance the toppings so it varies according to what type of pizza you order.
The same care is taken for the more innovative dough base: Trticuma flour (a blend of whole grain flour and buckwheat), burnt grain, charcoal, turmeric and sesame seeds, and for both the traditional base and the gluten-free versions.
The results are consistent.  The crust is regular, without being excessively spongy, and perfectly encircles a soft disk of appropriate thickness. We recommend the Nduja zuccata for the harmony between the sweetness of the IGP Mantova pumpkin and the spiciness of the salami from Calabria.  We also highly recommend the Nerano, which is simply to die for.  It is a happy marriage between fried zucchini rounds, DOP Parmigiano fondue, and shavings of DOP Provolone del Monaco. The offer of wines and beers needs to be extended. The service is friendly.
---