Pizzerie Top 2020
1° - I Masanielli – Francesco Martucci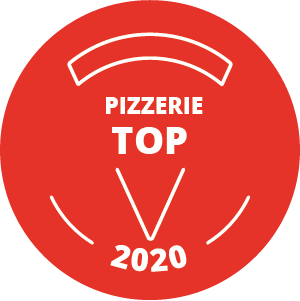 Pizza dell'Anno 2020
PASTIFICIO DI MARTINO AWARD
Futuro di Marinara
Francesco Martucci comes from afar, and from a very long line of experience which began when he was still a teenager.  He learned the trade from his uncle, a pizza chef, and in pizzerias in the Caserta province.  It was a long road which began first with takeaway pizza, then led him to open various Masanielli where success came thanks to word of mouth.  Today the Masanielli are well-oiled machines and Francesco Martucci is the Master of the contemporary pizza.
The dining area service is quick and professional.  There is a scientific organization to manage the impressive number of customers at this pizzeria in complete safety.  There is an ample selection of wines and beers, able to satisfy any taste and any pocketbook.
The divine dessert selection is by Lilia Colonna, his life partner, and you will thus conclude your experience at the Masanelli in the best way possible.  But what makes this pizzeria special is the work done on the doughs and the toppings, which Martucci continually revisits and raises the standard.
We were particularly impressed by the internal softness and meltiness of the dough, which is accompanied by a crunchy effect on the exterior.  It is an incredible and perfect balance that no other has been able to accomplish at the moment.  Notable work is also done on the selection of the ingredients which are of the highest quality.  The combinations are creative and avant garde.
He is truly in a class by himself, and as common to all such individuals, he simply cannot sit still.  In fact, his advantage over the others is furthered by two pizzas that undergo three different bakings at three different temperatures:  first steamed, then fried and then baked in the oven.  The result is the futuro di margherita and the futuro di marinara which is our 2020 pizza of the year.
Overall, the experience at the Masanielli is unique.  You truly enter into a pizzeria of the future.  He will be announcing his new projects in the coming months.
We wholeheartedly declare, without fear of contradiction, that this is currently the best experience available in this moment in the pizza sector.
---