1° 50 Top Europe 2020
50 Kalò di Ciro Salvo Pizzeria London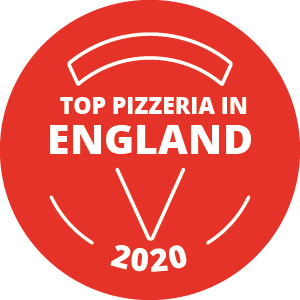 Pizza Chef of the Year 2020
S.PELLEGRINO & ACQUA PANNA AWARD
Best Service 2020
CONSORZIO TUTELA PROSECCO DOC AWARD
La location è centralissima ed è raggiungibile con la tube (Leicester Square o Embankment sono le fermate più vicine), con i local buses e per treno (Waterloo Station è a soli 15 minuti a piedi). La pizzeria non ha parcheggio privato, ma data la remota possibilità che i clienti si rechino in auto in centro Londra, il posto auto non è per nulla necessario. Il personale è sempre attento e gentile. Il ridotto numero di posti consente un servizio molto rapido ed impeccabile: d'altronde lo era anche in fase pre-covid quando la rotazione dei tavoli era un obbligo e la coda di clienti lunga ma scorrevole. Veniamo alle pizze.
Semplicemente ottime a nostro parere. Sia la montanara, di dimensioni extra, che le pizze risultano leggere al coltello, al gusto e alla digestione, segno di prodotti di qualità e di un impasto dai lunghi tempi di lievitazione. La selezione delle pizze è ampia e varia (ne contiamo 25 nel menu) ed incontra i gusti di molti, vegetariani e non, amanti delle più classiche o delle più particolari. Non hanno pizze gluten-free.  La carta dei vini comprende circa una trentina di etichette, tra rossi e bianchi, tutti rigorosamente DOC, DOP, IGT. E tutti campani, dal Sannio al Cilento e all'Irpinia. Il conto? Lo troverete in linea con i prezzi di Londra, coerente con la posizione centrale del locale e giustificato dalla qualità' del prodotto che mangerete. Per una pizza che non sia Marinara (6,95 GBP) o Margherita (9,95 GBP) tenete conto una media di 13/14 GBP a testa. In conclusione, 50 Kaló è oggi una certezza.
---
The location is very central and can be reached using the tube (Leicester Square or Embankment are the closest stops), or by bus, or train (Waterloo Station is just a 15-minute walk away). The pizzeria does not have private parking, but given the remote possibility that customers drive into central London, parking is not necessary at all. The staff is always attentive and kind. The reduced number of seats calls for fast and impeccable service.  This was the case even before the COVID-19 phase when the rotation of tables was obligatory, making the queue of customers long but still flowing. Now let's get to the pizzas: simply excellent in our opinion. The montanara, (extra-large version) and the normal dimension pizzas are both light in terms of taste and digestion. They are like butter to a knife, a sign of quality products and a dough that has been left to leaven for a long time. The selection of pizzas is wide and varied (we counted 25 on the menu) which can satisfy all tastes: vegetarian, non-vegetarian, lovers of classic pizzas or the more particular ones. They do not offer gluten-free pizzas. The wine list includes about thirty labels, red and white, and all strictly DOC, DOP, and IGT, all from Campania, from Sannio to Cilento and Irpinia. Is you are wondering about the bill, you will find it in line with London prices, consistent with the central location of the place and justified by the quality of the product you will eat. For a pizza other than Marinara (6,95 GBP) or Margherita (9,95 GBP), expect an average of 13/14 GBP each. To conclude, 50 Kaló today is a sure bet.