Pizzerie Eccellenti 2020
Duje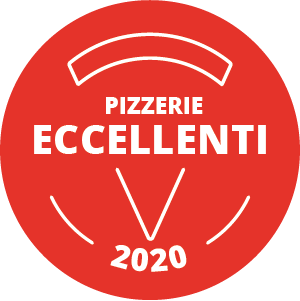 Pizzeria dall'arredamento moderno, sosta confortevole sia per il buon comfort acustico sia per la climatizzazione; c'è anche un buon numero di tavoli all'aperto, in piazza.
Interessante la proposta degli antipasti con vasta scelta di fritti tra cui l'ottima ed originale (pane aromatizzato al limone) mozzarella in carrozza. Ben calibrata la proposta delle pizze: non mancano i classici (marinara, margherita, cosacca) come anche scelta ampia di pizze fritte con un occhio al territorio, non può mancare il lampredotto presentato in "cono", tributo alla territorialità.
Micro-menù dedicato per i bimbi ed asporto o consegna a domicilio (il pizza-kit) completano l'offerta di questo bel locale.
Dolci fatti in casa, di pregevole fattura.
---
This pizzeria has a modern décor, and it is a pleasant stop both for its acoustics and for the air conditioning. There is also a good number of outdoor tables in the piazza. We found the antipasti proposals to be interesting. There is a large selection of fried goods including the excellent and original mozzarella in carrozza (the bread is flavored with lemon zest). The pizza menu is well-calibrated; the classics are present (marinara, margherita, cosacca) as is a wide selection of fried pizzas which lean towards products from the local territory. The lampredotto could not be absent; it was presented in a "cone" as a tribute to the local area. There is a micro-menu for children, and takeaway and delivery service (the pizza-kit). These services complete the offer of this lovely establishment. The desserts are homemade and very well-executed.