Pizzerie Eccellenti 2020
Emma Pizzeria con cucina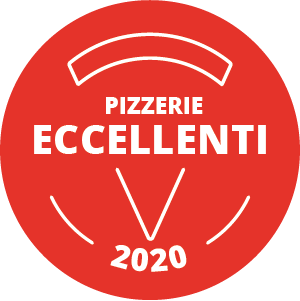 In questo locale , dagli arredi curati ed eleganti, si sta davvero molto bene e molto sereni sopratutto in merito al rispetto di tutte le norme post covid.
Tanta attenzione in ogni aspetto: dalla selezione di materie prime di eccellenza, al garbo del personale di sala, dalla poliedricità de menù al prestigio della carta vini.
La pizza, il cui impasto pensato da Pierluigi Roscioli con farine biologiche e solo 0.6 gr di lievito per kg di farina, è una romana croccante .
All'assaggio risulta leggera e croccante, la cottura nel forno a legna ad hoc, un filo di persistenza di farina al gusto soprattutto nelle versioni bianche.
Da segnalare l'ottima tenuta dell'impasto anche nella base pomodoro.
I topping sono caratterizzati dall'utilizzo di grandi prodotti del territorio italiano, con abbinamenti interessanti senza mai cadere in presuntuosi esercizi di stile.
Bonus per la frittura con menzione speciale per la crocchetta di patate.
---
In this establishment with well-kept and elegant furnishings, it's easy to feel good and at ease even while acting in compliance with all the post-covid rules. It is clear that a lot of attention is put into every detail: from the selection of excellent raw materials to the grace of the dining room staff, from the range of the menu to the prestige of the wine list. The pizza dough created by Pierluigi Roscioli is made with organic flours and only 0.6 grams of yeast for every kilogram of flour. The result is a crunchy Roman style pizza.  Upon tasting the pizza, its lightness and crispness is evident.  It is cooked in an ad hoc wooden oven, giving a persistent flour fragrance, especially in the white pizzas. The exceptional hold of the dough, even with tomato-based sauces, is noteworthy.    The toppings are characterized by the use of great products from the Italian territory, with interesting combinations.  They do not fall into the trap of presumptions flavour combinations. We wish to give extra honorable mention to the fried dishes, especially for the potato croquette.