Pizzerie Eccellenti 2020
Farina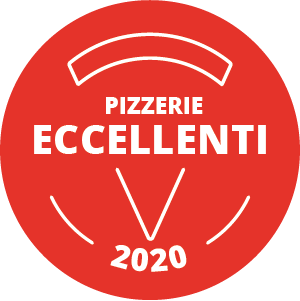 Pizzeria nella zona mare di Pesaro. I vari stili di pizza sono espressione di ricerca, studio, tecnica, attenzione ed esaltazione della materia prima del territorio.
Il lievito madre, chiamato Lisa, è l'alleato della cucina. In aggiunta alla pizza "Classica" stile Napoletano cotta nel forno a legna, ci sono la pizza gourmet "6 Spicchi" con cornicione alto e farcitura principalmente fuori forno, e la pizza "Croccante" con farina semintegrale e doppia cottura.
La selezione di prodotti tipici italiani aggiunge gusto anche alla focaccia, "C.Rock". Vini e birre sono di piccoli e ricercati produttori locali; la pizza può essere accompagnata da intriganti cocktails di succhi e bollicine della zona. Piatti extra-pizzeria anche gluten free. Locale ampio e luminoso con dehors. Staff giovane e preparato, in sala cortesia nel modo di raccontare e spiegare la filosofia di ogni pizza. Da segnalare l'approccio giovanile e moderno, si accettano prenotazioni solo tramite form online.
---
This pizzeria is in the seaside area of Pesaro.  The various styles of pizza are a result of research, study, technique, care and a celebration of the locally sourced raw materials. The sourdough which they have named Lisa is considered the kitchen's ally.  In addition to the "classic" pizzas in the Neapolitan style baked in a wood-fired oven, there is also the "6 Spicchi," a gourmet pizza with a high crust and toppings that are mostly added after baking, and the "Croccante" pizza with semi-whole wheat pizza and a double baking. The selection of typical Italian products adds flavor to the "C. Rock" focaccia.  The wines and beers come from small, well-researched local producers.  The pizza can be paired with intriguing cocktails, juices and sparkling wines from the area.  There are also dishes from the kitchen with gluten-free choices if you opt not to have pizza.  It is a large, well-lit establishment with outdoor seating.  The staff is young and well-prepared.  Every pizza's philosophy is recounted and explained with courtesy.  The young and modern approach is to be noteworthy.  Reservations are available, but only through an online booking form.