12° 50 Top Europe 2020
La Bottega Siciliana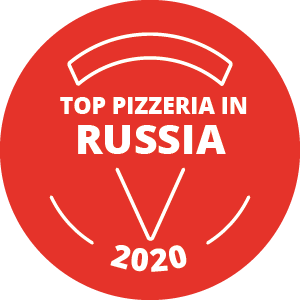 Best Format 2020
LATTERIA SORRENTINA AWARD
Localizzato nel cuore di Mosca, tra il Teatro Bolshoi e Piazza Rossa, il ristorante e pizzeria "La Bottega Siciliana" rappresenta un vero ed autentico angolo di Italia nella capitale russa.
Capitanato dal Famoso Chef ex-stellato Nino Graziano, La Bottega accoglie i suoi clienti in un'atmosfera elegante e moderna, dove gli oggetti di arredo e le scelte di Menu, anche nella pizza, richiamano la terra di origine del suo fondatore. La pizza e tutti I suoi ingredienti di condimento sono rigorosamente "homemade" e preparati nella cucina aperta e visibile ai clienti. Il risultato è un prodotto croccante, fragrante e ampiamente riconosciuto come uno dei migliori in città.
---
The restaurant and pizzeria "La Bottega Siciliana" is situated in the heart of Moscow between the Bolshoi Theater and the Red Square.  It represents a true and authentic corner of Italy in the Russian capital. Led by the ex-Michelin-starred chef Nino Graziano, La Bottega welcomes its customers into an elegant and modern setting.  The furnishings and the choices on the menu, even the pizza, recall its founder's homeland. The pizza and all its ingredients are strictly homemade and prepared in the open kitchen in full sight of the customers. A crispy and fragrant product is the result, which is fully recognized as one of the best in the city.