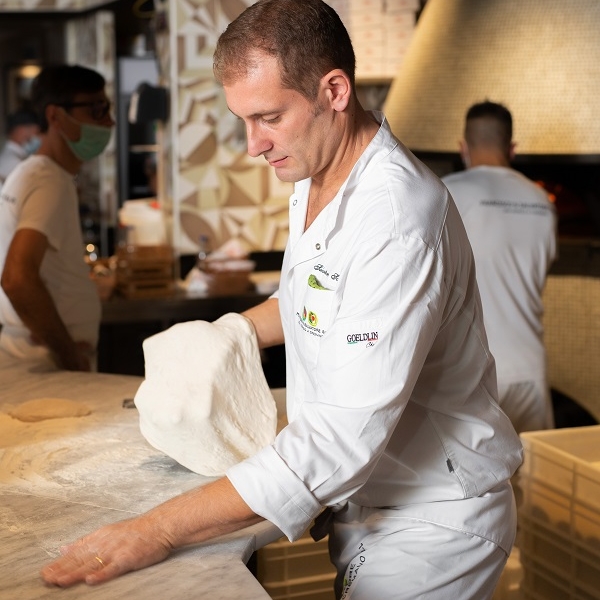 Francesco & Salvatore Salvo
7° 50 Top Pizza World 2022
---
5° 50 Top Pizza Italia 2022
---
Affacciata sulla storica Riviera di Chiaia, la pizzeria Salvo offre un'esperienza davvero interessante. Ambiente elegante, curato, spazioso e luminoso. Staff di sala disponibile, professionale e al tempo stesso veloce.
La pizza è molto leggera, cotta e lievitata perfettamente. cGli ingredienti sono il punto forte: pomodori di diversa composizione e provenienza, che soddisfano alla perfezione tutte le sfumature gustative e mostrano la creatività gastronomica dei pizzaioli; oli diversi per valorizzare diverse intensità di sapore. Vasta scelta di vini che accompagnano perfettamente le ottime fritture e le pizze. Se è vero che fare la pizza è un'arte, qui siamo in una vera galleria di gusto.
---
Overlooking the historic Riviera di Chiaia, the pizzeria Salvo offers a truly interesting experience.  The interior is elegant, curated, spacious and luminous.  The dining area staff is attentive, professional and also quick at the same time.  The pizza is very light, baked and leavened perfectly.  The ingredients are the strong point:  different types of tomatoes with different origins that perfectly satisfy the flavor nuances and show the gastronomic creativity of the pizza makers.  Different oils are also used to valorize the different intensities of flavor.  There is a vast choice of wines that pair perfectly with the excellent fried foods and the pizzas.  If it is true that pizza making is an art, here we are in a true gallery of taste.