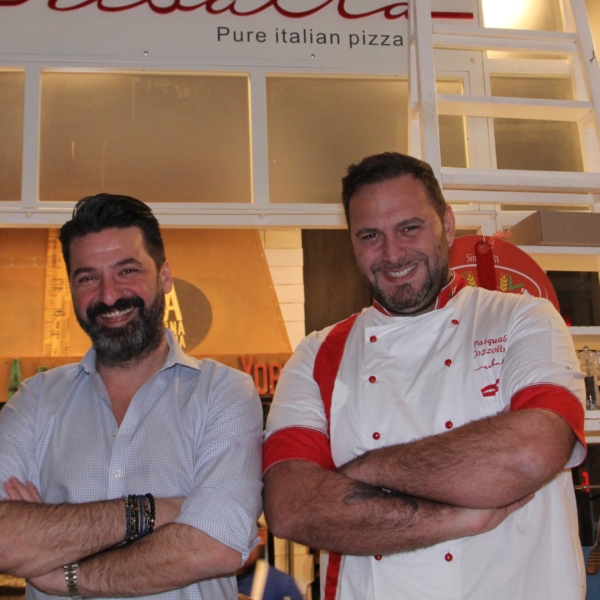 Ribalta NYC
11° 50 Top Pizza World 2022
---
3° 50 Top Pizza USA 2022
Best Service 2022
Goeldlin Award
---
Il duo Pasquale Cozzolino e Rosario Procino domina quasi incontrastato il mondo napoletano a New York da questo locale dove si propone una pizza napoletana classica, quasi a ruota di carretta, ma non solo: c'è
la proposta in pala, un po' di cucina con uno spaghetto al pomodoro e una genovese che fanno subito aria di Napoli, grande bancone cocktail e soprattutto una bella e ampia carta dei vini e di birre a cui attingere. Il venerdì è quasi sempre festa grande, festa se l'Italia o il Napoli vincono le partite di calcio. Un riferimento per vivere l'anima napoletana oltre che l'autentica pizza della città, sempre con prodotti di qualità.
---
The duo Pasquale Cozzolino and Rosario Procino dominate the Neapolitan world almost unchallenged in the city of New York. This pizzeria serves the classic cart wheel Neapolitan pizza, but not exclusively that: the meter-long pan pizza is also available, as well as a very good spaghetti with tomato sauce, and a pasta genovese that makes you feel like you're in Naples. There is also a large cocktail counter where you get an extensive wine and beer menu. Friday is often a big day here, especially when Napoli wins the soccer game. This is the right place to get to experience the real Neapolitan spirit as well as the authentic pizza, which is always strictly prepared with quality products.