Granzi Pizzerie 2021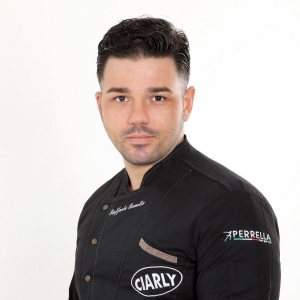 55° Ristorante Pizzeria Ciarly
La pizzeria Ciarly, nel quartiere Fuorigrotta di Napoli, è diventata un grande punto di riferimento della buona pizza nella metropoli partenopea. Negli anni, Raffaele Bonetta – pizzaiolo patron – è cresciuto in maniera esponenziale: i suoi impasti sono sempre più interessanti sia sotto il profilo del gusto che nella maturazione. Il locale è migliorato col tempo e la cucina resta sempre fedele alla tradizione.  Le pizze sono sia tradizionali che contemporanee e quelle "elaborate" meritano un assaggio in quanto si percepisce la vera essenza delle capacità di Raffaele. Le creme e salse dei condimenti sono tutti home made.
Servizio cordiale, locale d'antan ma gestito con passione.
---
The pizzeria Ciarly, which can be found in the Fuorigrotta neighborhood of Naples, has become a landmark for a good pizza within the Neapolitan metropolis. Over the years, Raffaele Bonetta, the pizza chef-owner, has grown exponentially: his doughs always become more interesting, both in terms of flavor and maturation. The establishment has improved in time, and the cuisine always remains true to tradition. The pizzas are both traditional and contemporary, and we recommend trying one of the "elaborate" so that you can perceive the true essence of Raffaele's skills. The creams and the sauces for the toppings are all homemade. The service is friendly, and the venue is managed with passionate dedication.