Granzi Pizzerie 2021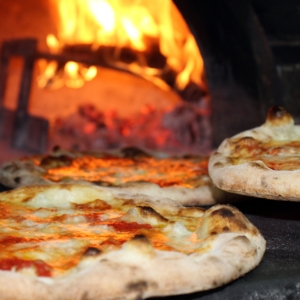 88° (Uagliò) Dal 2022 UAOUagliò
Sono sempre più bravi Gennaro Generoso e Carla Ferrari al timone di una delle pizzerie da non perdere (e non solo tra quelle avvitate nella città sabauda). Cuore green (100% di energia rinnovabile; tutto compostabile) e servizio easy nei pochi tavoli fuori dal locale. Dal forno, pura perfezione: qualità, padronanza delle materie e ricerca. Le ultime pizze uscite dal cappello magico sono la 'Nduja & Sour con pomodorini gialli, mozzarella di bufala e olio d'arancia e la Brav&Spicy con l'inedita congiunzione tra i friarielli e salsiccia di Bra. E resistono pezzi (ormai) di repertorio, come la Mamm'e Pompei con ragù napoletano e ricotta di bufala. Cornicione alto e tanta goduria.
VISITATA IN DATA 15/07/2021
---
Gennaro Generoso and Carla Ferrari continue to do a great job at the helm of a pizzeria that is not to be missed (among those within the Saubaudian city). It has a green heart (100% renewable energy, all compostable waste). The service is informal with a few tables outside the venue. From the oven, you can expect pure perfection in terms of quality, research and mastery of the raw materials used. The latest pizzas to come out of the magic hat are the 'Nduja & Sour with yellow tomatoes, buffalo-milk mozzarella, and orange oil, as well as the Brav&Spicy with the unusual combination of broccoli and Bra sausage. Also, the old standbys remain such as Mamm'e Pompei with Neapolitan ragù and buffalo-milk ricotta. The pizzas have a high crust and are delicious.