Pizzerie Top 2020
42° - Giotto Pizzeria-Bistrot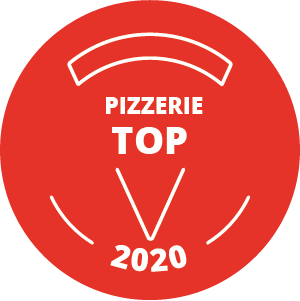 Pizzeria di quartiere, inaugurata nel 2016, dall'anima isolana: la famiglia che gestisce il locale è originaria di Ischia come anche il giovane pizzaiolo che nasce pasticciere ed ha fatto poi il salto dedicandosi agli impasti. Qui si mangia un'ottima pizza napoletana ma moderna, un 'classico' canotto ottimamente lievitato, perfettamente cotto e le farciture sono di eccellente livello qualitativo.
I fondamentali, margherita e marinara, sono tra i migliori in città e molto buoni i fritti. Qualche pizza creativa tra cui la pizza alla bistecca: è pizza ma sembra di star mangiando la bistecca alla fiorentina, geniale omaggio alla città di Firenze.
Lasciate un po' di spazio per i dolci: quasi tutti fatti in casa da Marco (con un "intruso" pratese in carta, di gran fama).
Consigliato prenotare per tempo.
---
Pizzeria di quartiere (local-area pizzeria), inaugurated in 2016, has an islander soul: the family that runs the place is originally from the Neapolitan island of Ischia. This is also true of the young pizza chef who was originally a pastry chef and then dedicated his efforts to working with doughs. Here you can eat an excellent modern Neapolitan pizza, a classic "canotto" (boat-style) thick-crust. It is an excellently leavened pizza; it is perfectly baked and uses only excellent quality toppings. The classics: margherita and marinara, are amongst the best in town and the fried food is simply excellent. Some creative pizzas include the steak pizza: it is pizza but it feels more like eating a fiorentina steak. It is a brilliant tribute to the city of Florence. I suggest leaving some space for dessert; almost all of them are homemade by Marco (along with a very famous "intruder" chef from Prato). We recommend booking in advance.