5° 50 Top Europe 2020
La Pizza è Bella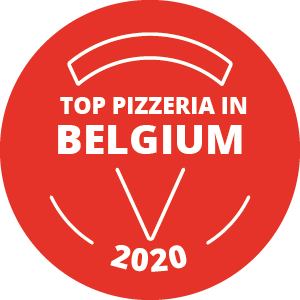 Made in Italy 2020
LATTERIA SORRENTINA AWARD
Una compiuta e coerente espressione di napoletanità nel centro di Bruxelles; questa è, in sintesi, l'esperienza che si può fare in questo locale collaudato nel quale i piatti della tradizione partenopea,
soprattutto quelli a vocazione marinara, sono accompagnati da pizze di ottima fattura e ben lievitate cotte nel forno a legna. Dalle classiche a quelle più personalizzate e gourmet, si sente la mano napoletana. Lo
stesso vale per il servizio, attento, professionale ma anche allegro e familiare. Non manca la possibilità di mangiare all'aperto. Buona scelta di birre, anche artigianali italiane e di vini tra cui però la Campania
fatica a comparire.
---
A complete and coherent expression of Neapolitan style can be found in the center of Brussels.  This is, in short, the experience that you can expect in this well-established restaurant in which traditional Neapolitan dishes, especially those with seafood, are accompanied by well-made and well-leavened pizzas cooked in a wood-fired oven. From the classic pizzas to those more personalized and gourmet you can sense the Neapolitan influence. The same is true for the service, which is attentive, professional but also cheerful and informal. There is also the possibility to eat outdoors. There is a good selection of beers, including Italian crafted beers, and Italian labels.  However, very few brands are from the Campania region.