Pizzerie Top 2020
2° - Pepe in Grani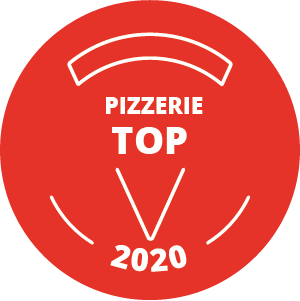 Recarsi da Pepe in Grani è un'esperienza che ha qualcosa in più rispetto ad una semplice serata trascorsa in pizzeria. Raggiungere Caiazzo, parcheggiare poco distanti dal centro, imboccare il pittoresco centro storico, seguire le indicazioni nel paesino che portano al quartier generale di Franco Pepe: queste le premesse per lasciarsi trasportare nel viaggio gastronomico di Pepe, non senza aver prenotato in largo anticipo, magari scegliendo giorni ed orari strategici per evitare lunghe attese.
I "coni" che aprono il menu sono un'esplosione di sapori; accuratati abbinamenti farciscono conetti di pizza fritta leggeri e soffici.
Le pizze sono suddivise tra le classiche, le originali, le stagionali e quelle dell'orto. Partendo dalla pizza napoletana, Franco Pepe ha delineato uno stile del tutto personale che lo ha reso celebre in tutto il mondo, nell'impasto così come negli accostamenti, equilibrio perfetto di pochi e semplici ingredienti.
Nella scelta dei dolci, da non perdere le new entry "Pastiera fritta": cono fritto con crema pasticcera, fiordilatte, canditi, nocciole, cannella e arancia, con tanto di dedica all'amico maestro pasticcere Alfonso Pepe. Tra le novità post quarantena anche la possibilità di prenotare uno dei tre tavoli del silenzio disposti in giardino, in un'area dedicata al grande compositore scomparso Ezio Bosso.
Servizio di sala impeccabile e procedure anti-covid pienamente rispettate.
---
Going to Pepe in Grani is an experience that is something more than just a simple evening in a pizzeria. You get to the town of Caiazzo, park not far from the center, walk towards the picturesque old town, following the signs that will lead you to Franco Pepe's pizzeria. These are the conditions to get to experience Pepe's gastronomic journey; you must book well in advance, and perhaps strategically choose days and times to avoid long waits. The "coni" (cones) that open the menu are an explosion of flavors. Wisely paired, they consist of filled fried pizza cones that are light and soft. The pizzas are divided into: classic, original, seasonal, and the ones from the garden. Starting from the Neapolitan pizza, Franco Pepe has outlined a completely personal style that has made him famous worldwide. The dough, as well as the combinations, make it a perfectly balanced pizza using only simple ingredients. For the choice of desserts, not to miss is the new entry "Pastiera fritta": a fried cone with custard, fiordilatte, candied fruit, hazelnuts, cinnamon, and orange; complete with an inscription dedicated to the friend master pastry chef Alfonso Pepe. Among the post-quarantine options, there is also the possibility of booking one of the three tables, arranged in the quiet garden in an area dedicated to the great composer Ezio Bosso. Impeccable dining room service and fully enforced anti-covid procedures.