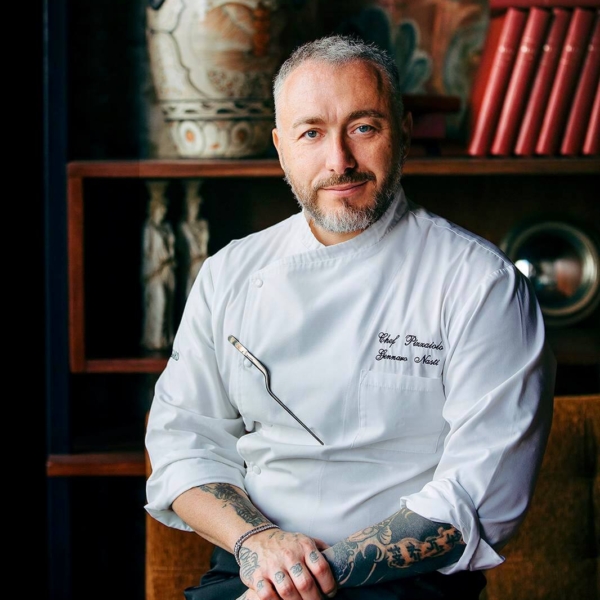 400° Laboratorio
70° 50 Top Pizza World 2022
---
17° 50 Top Pizza Europa 2022
New Entry of the Year 2022
Solania Award
---
E' aperta da pochi mesi la nuova pizzeria di Gennaro Nasti. Un locale di tendenza piacevole e raffinato in tutti i suoi aspetti, dalle luci soffuse al bel frigo per i salumi a vista, dal forno alle eleganti posate.
Qui da +400° le pizze napoletane sono veramente buone e presentano un cornicione equilibrato, l'impasto si apprezza grazie ad una cottura perfetta. Intrigano molto gli abbinamenti originali e le proposte particolari come le pizze alla farina di sette semi o in quelle al padellino in doppia cottura.
Il servizio è elegante, con un pizzico di simpatia italiana, generoso, attento e riservato. La Margherita qui va sempre assaggiata e poi consigliamo di provare il vecchio cavallo di battaglia di Gennaro Nasti: la pizza allo Champagne.
---
Gennaro Nasti's new pizzeria only opened a few months ago. It is a pleasant, refined, and trendy place in every aspect: from the soft lights to the nice display fridge for the cold cuts, from the oven to the elegant silverware used. Here, at +400°, the Neapolitan pizzas are simply very good and have a well-proportioned crust, the dough can really be appreciated thanks to the perfect baking. The original combinations and particular proposals such as the seven-seed flour pizzas or the double-baked pan pizzas, are very intriguing. The service is carried out with elegance but with a hint of the Italian friendliness, generosity, attentiveness, and tact. The pizza Margherita is a must here and then we recommend trying Gennaro Nasti's classic: the Champagne pizza.