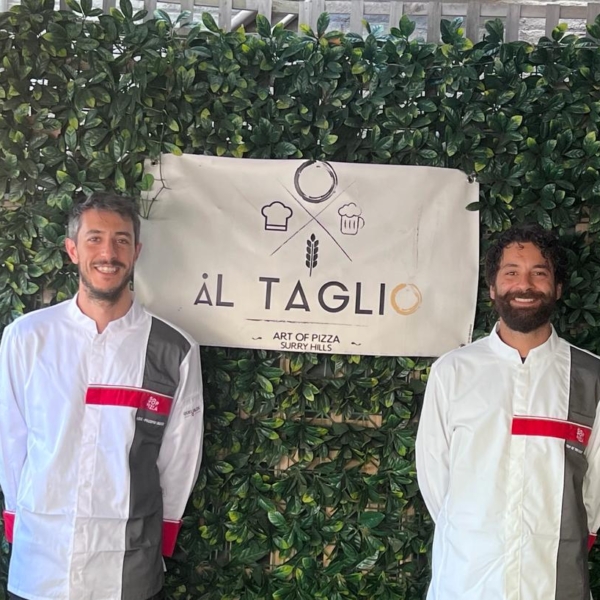 Al Taglio
---
63° 50 Top Pizza World 2023
Best Beer and Drink Service 2023
Birrificio Fratelli Perrella Award
---
11° 50 Top Pizza Asia – Pacific 2023
Best Beer and Drink Service 2023
Birrificio Fratelli Perrella Award
---
La giovane brigata, capitanata da Silvio Groppelli e Daniele Geniale, interpreta con brio e creatività i piatti del menu italiano senza tradire la tradizione. In carta sono protagoniste le focacce, il pane, la pizza anche in versione vegana e senza glutine, lievitati naturalmente. Molto interessante il paring con il vino consigliato in abbinamento. Di moderna ispirazione tricolore anche gli antipasti, i primi piatti e i dolci.
L'ambiente è informale e accogliente ospita spesso eventi e degustazioni per condividere e approfondire la conoscenza degli ingredienti, dei territori e delle ricette che raccontano dell'Italia lontano dall'Italia.
---
The young brigade, led by Silvio Groppelli and Daniele Geniale, interprets the dishes of the Italian menu with charisma and creativity without ever abandoning tradition. On the menu, focaccia, bread, and pizza are the protagonists, also available in vegan and gluten-free variants, all naturally leavened. The pairing with the recommended wines is very interesting. The appetizers, first courses, and desserts are also of modern tricolor inspiration. The environment is informal and welcoming, they often host events and tastings to share the knowledge and delve into the culture, territories, ingredients, and recipes that tell of Italy while far from Italy.