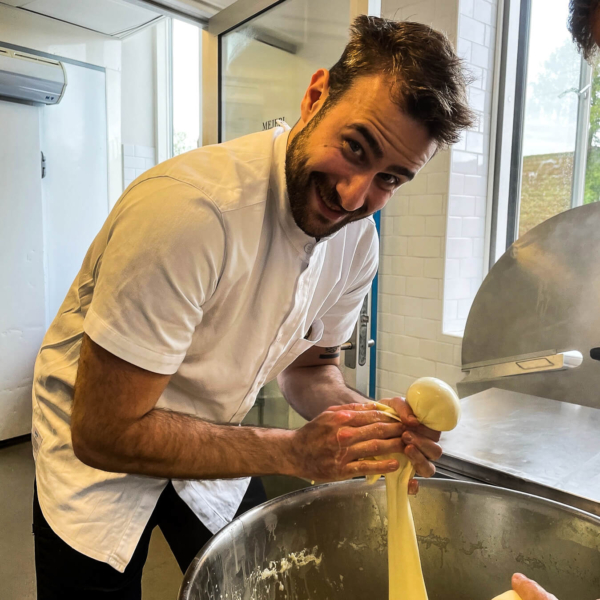 Bæst
20° 50 Top Pizza World 2022
---
4° 50 Top Pizza Europa 2022

Best Service 2022
Goeldlin Award
Innovation and Sustainability 2022
Ferrarelle Award
---
Bæst continua a stupire essendo uno dei luoghi preferiti sia dai turisti sia dalla gente del luogo. Latticini esclusivamente biologici di produzione giornaliera, verdure sostenibili del loro progetto parallelo "Fattoria delle idee" e carne locale, sono l'equazione perfetta per una pizzeria unica.
Bæst offre ora la possibilità di scegliere tra 3 menù (degustazione breve, degustazione lunga o à la carte – ma anche brunch il sabato e la domenica) ad un prezzo molto conveniente rispetto alla media cittadina.
Le pizze, di ispirazione napoletana, sono preparate con prodotti di stagione e biologici, come il resto del menu. La scelta migliore tra le pizze è la nduja (sempre fatta in casa), mozzarella affumicata, cipolla rossa e origano.
Il raffinato background dello Chef Puglisi ha migliorato il livello di ospitalità e di servizio della pizzeria, con personale molto competente. Le bevande possono essere selezionate attraverso l'ampia carta dei vini tendendo ai produttori di vino naturale con alcuni dei classici italiani e francesi o attraverso una buona selezione di birre e cocktail.
---
Bæst continues to impress us by being one of the favorite locations for the locals and tourists alike.  Exclusively organic dairy products made daily, sustainable vegetables from their side project "Farm of Ideas" and meat sourced from local producers, are the foundation for the success of this unique restaurant.  Bæst now offers the choice from among 3 menus.  A short tasting itinerary, a long tasting itinerary or á la carte are all available.  Brunch is also offered on Saturdays and Sundays.  The prices are considerably lower than the city average. Neapolitan-inspired pizzas are made here using seasonal produce, as is the policy of the rest of the menu.  The most popular pizza is the one with homemade 'nduja, smoked mozzarella, red onions, and oregano. The fine-dining background of Chef Puglisi has enhanced the level of hospitality and service of the establishment, with its knowledgeable and well-trained chefs and waiters. Beverages can be selected from the extensive wine list which favors natural wine producers with some well-known labels from Italy and France.  There is also a good selection of beers and cocktails.