Granzi Pizzerie 2021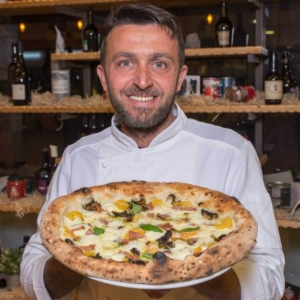 81° Carmine Donzetti – Pizza & Fritti
Siamo a Casandrino, nelle immediate vicinanze dell'asse mediano: una struttura moderna e luminosa, con  tavoli ben distanziati grazie a un'organizzazione razionale degli spazi che vede il posizionamento dei forni all'ingresso per facilitare l'asporto, mentre in un altro angolo della sala trova collocazione, opportunamente isolato, un forno dedicato al gluten free.
Le pizze si ispirano alla scuola napoletana più classica, mostrando cornicione sobrio, alveolatura coerente e un disco proporzionato che non deborda mai dal piatto di portata; sono condite con ingredienti selezionati e di ricerca; cottura completa ed uniforme. Limitata scelta delle bevande, servizio sbrigativo.
---
This establishment is located in Casandrino, in the immediate vicinity of the metropolitan highway.  It is a modern and bright venue with well-spaced tables.  The efficient organization of space has the ovens positioned at the entrance to facilitate takeaway, while in another corner there is another oven that is dedicated to gluten-free baking. The pizza here is inspired by the most classic Neapolitan style.  It has a moderate crust that its nice and bubbly, and a well-proportioned dough disk that never extends beyond the plate. These pizzas are always topped with well-thought-out, select ingredients, and the baking is complete and uniform. The beverage selection is limited and the service is a bit hasty.