Grandi Pizzerie 2022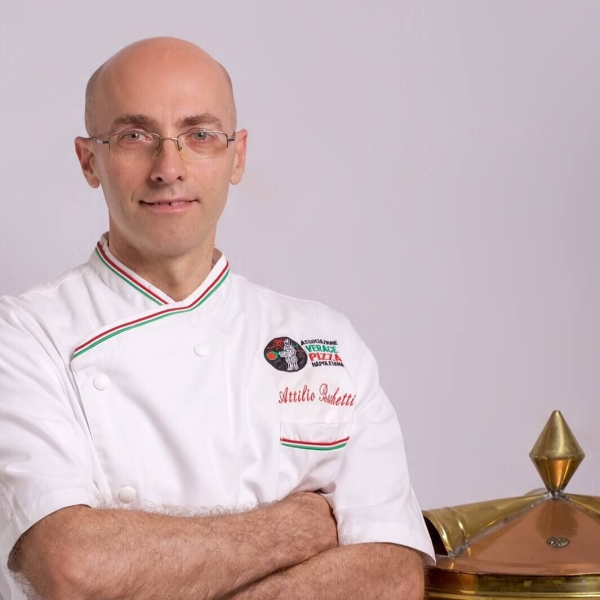 70° Da Attilio
Punto di riferimento per napoletani e turisti, la pizzeria Da Attilio si trova alla Pignasecca, storico e tipico mercato di generi alimentari e frutta e verdura freschi.
Attilio Bachetti, proprietario, maestro pizzaiolo e sommelier, ammacca ogni pizza e porta avanti così la tradizione della sua famiglia.Stile classico napoletano per il locale e per le pizze: impasto idratato, pizza ben stesa uso di ingredienti del territorio. Da provare, accanto alla classica margherita, le pizze a stella con cornicione ripieno, come la Appennini: otto punte ripiene di ricotta di Vico Equense, pancetta e zucchine saltate, fiordilatte, mix di parmigiano e pecorino e funghi beneventani. Buoni i fritti, il crocchettone è una esperienza. Servizio familiare.
---
This place is a point of reference for Neapolitans and tourists alike.  The Da Attilio pizzeria is located in Pignasecca, a historic and typical food and fruit and vegetable market.  Attilio Bachetti, owner, master pizza chef and sommelier, makes each pizza himself and carries along the family tradition in this way.  The style is classic Neapolitan both for the establishment and for the pizzas.  The dough is hydrated and well-stretched and topped with locally-sourced ingredients.  Beyond the classic margherita we recommend the a stella pizzas with their stuffed crusts.  One is the Appennini:  eight points stuffed with ricotta from Vico Equense, pancetta and sauteed zucchini, fiordilatte, a mix of pecorino and parmesan and mushrooms from Benevento.  The fried food is good, and the crocchettone is an experience.  The service is friendly.