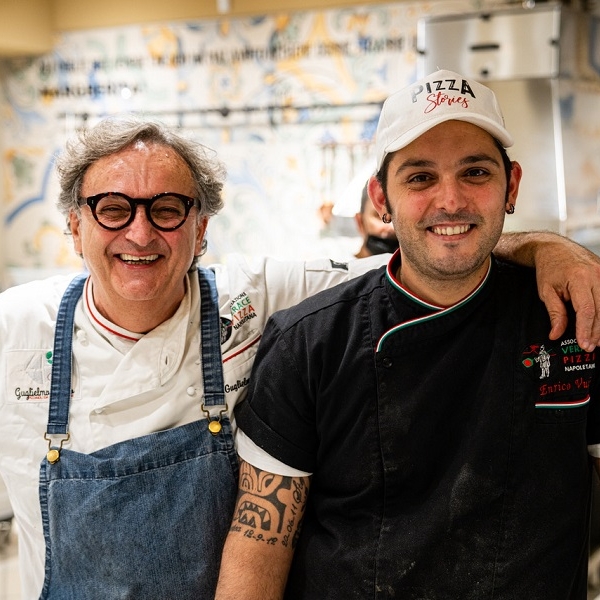 Guglielmo & Enrico Vuolo Verona
---
53° 50 Top Pizza Italia 2023
---
Un viaggio nella gastronomia napoletana tra ingredienti scelti accuratamente e ricette di famiglia. Tanti prodotti tipici campani nell'originale menu pizze di Guglielmo il fondatore, e del figlio Enrico che dal tradizionale forno a legna sforna gustose pizze dal cornicione gonfio e alveolato. Il menu è un canto d'amore per la propria terra con protagonista il pomodoro, nelle diverse varietà allevate ai pedi del Vesuvio.
Imperdibili gli "Scugnizzielli" straccetti di pasta pizza, fritti e conditi a scelta con pomodorini e basilico o serviti come dolci con creme alla nocciola o pistacchio.
Mamma Stefania cura l'ottima selezione di dolci sempre rigorosamente partenopei.
---
This place takes you on a journey through Neapolitan gastronomy among carefully chosen ingredients and family recipes.  There are many typical products from Campania in the original pizza menu by Guglielmo, the founder, and by his son Enrico who makes tasty pizzas with a large bubbly crust at the traditional wood-fired oven.  The menu is a love song to their home territory, with the tomato as the protagonist.  A variety of types are available, all cultivated at the foot of the Vesuvius.  The "Scugnizzielli" is simply a must; strips of pizza dough that are fried and topped with your choice of cherry tomatoes and basil, or served as a dessert with hazelnut or pistachio cream.  Mamma Stefania curates the excellent selection of desserts, all strictly from Naples.