Granzi Pizzerie 2021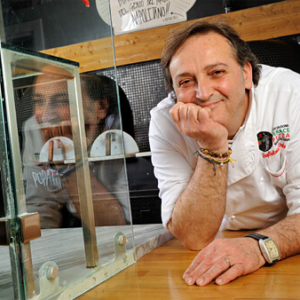 63° Guglielmo & Enrico Vuolo VeronaGuglielmo Vuolo Verona
La tradizione partenopea a Verona si chiama Vuolo – Guglielmo padre diventato "brand" ed Enrico figlio – e serve dischi morbidi dal marcato cornicione che sono un catalogo della napoletanità verace in virtù di tanti apporti dal regno gastronomico del Sud. Tra gli altri: pomodori in dieci varietà, origano dei Monti Lattari, capperi di Salina, aglio dell'Ufita, cipolla di Montoro, fior di latte e provola di Agerola, caciocavallo di Agnone, pecorino di Moliterno, salame di maialino nero casertano, alici di Cetara e Pozzuoli. Margherite e marinare sono presentate con "carte" proprie, in tutte le varietà possibili. Birre napoletane e vini campani. Dolci tradizionali, a partire dai babà.
Dal 26 ottobre 2021 Guglielmo & Enrico Vuolo Verona ha aperto i battenti nella nuova sede di Corso Milano 203 , a Verona.
---
The Neapolitan tradition is called Vuolo here in Verona.  The brand was created by a father-son team:  Guglielmo and Enrico.  They serve soft disks of pizza with a markedly pronounced crust.  The style is authentic Neapolitan thanks to the many products from the gastronomic kingdom in the south.  Among these you will find ten varieties of tomatoes, oregano from Monti Lattari,  capers from Salina, garlic from Ufita, onions from Montoro, fior di latte and provola from Agerola, caciocavallo from Agnone, pecorino from Moliterno, black pig salami from Caserta, and anchovies from Cetara and Pozzuoli.  The margheritas and marinaras are presented on their own menus in every imaginable variety.  There are Neapolitan beers and wines from Campania.  The desserts are all traditional and begin with a variety of babàs.