IMperfetto
11° 50 Top Pizza Europa 2023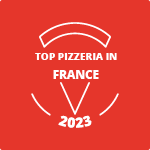 Performance of the Year 2023
Robo Award
---
In questo locale elegante, curatissimo, impreziosito da un raffinato banco bar, vive un piccolo pezzo di Italia. Siamo a Puteaux, cittadina a ovest di Parigi, dove lo chef pizzaiolo Tonino Cogliano prepara pizze in perfetto stile napoletano, lievitate bene e farcite con prodotti di grande qualità che arrivano dall'Italia.
In menu una bella proposta di pizze sia tradizionali che creative, focacce, panuozzi e calzoni, arricchita da antipasti, dolci da accompagnare con vini e cocktail tricolore.
Il personale di sala di origini italiane è ben coordinato, accogliente e professionale, interpreta con orgoglio l'appartenenza al paese di origine, senza nostalgia ma con un tocco contemporaneo e raffinato.
---
A small piece of Italy can be found in this elegant and well-kept venue, embellished with a refined bar counter. We are in Puteaux, a town west of Paris, where the pizza chef Tonino Cogliano prepares pizzas in the perfect Neapolitan style, leavened well and topped with high-quality Italian ingredients. On the menu, there is a good selection of both traditional and creative pizzas. As well as focacce, panuozzi and calzoni, enriched by appetizers, and desserts. Everything is accompanied by Italian wine and cocktails. The dining room staff, of Italian origins, is well coordinated, welcoming and professional, proudly representing their country of origin without nostalgia but with a contemporary and refined touch.