Pizzerie Top 2021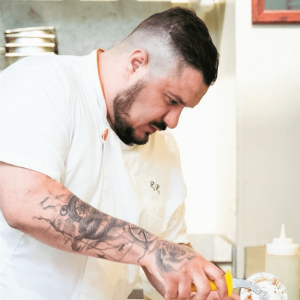 25° Le Follie di Romualdo
Nel quartiere di San Niccolò, fra ristorantini e laboratori di artisti, la pizzeria di Romualdo Rizzuti rimane sempre nel novero delle eccellenze fiorentine.
Pizza in stile napoletano con farciture ricercate, sia per qualità degli ingredienti che per l'approccio crativo degli abbinamenti, come la "Sogni di Tropea" con burrata affumicata o la "Napoli" con i filetti di acciuga serviti a parte. La pizza fritta, da abbinare agli Champagne, ben rappresentati nella carta dei vini, resta comunque uno dei suoi cavalli di battaglia.
La sua pizza nel periodo estivo approda anche ai giardini di Lungarno del Tempio e nello spazio "Al Fresco" del Four Seasons.
---
Located in the San Niccolò district, among restaurants and artists' workshops, Romualdo Rizzuti's pizzeria always remains an integral part of Florentine excellence. Here they serve a Neapolitan-style pizza with refined toppings, both for the quality of the ingredients themselves and for the creative approach of the combinations. An example is the "Sogni di Tropea" with smoked burrata or the "Napoli" with anchovy fillets served separately. The fried pizza, which is nicely paired with a champagne of choice, remains one of this place's strengths. During the summer the pizza is also served in the gardens of Lungarno del Tempio and in the "Al Fresco" dining area of the Four Seasons.