Granzi Pizzerie 2021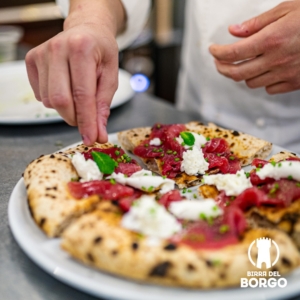 54° L'Osteria di Birra del Borgo
L'Osteria di Birra del Borgo è un locale multifunzionale, con una proposta molto ampia. Insalate, panini, la pasta fresca, la griglia. Per le pizze la proposta è stata affidata per anni a Luca Pezzetta. Ora un nuovo corso.
Il lavoro sulla teglia sfogliata è notevole, con un crunch davvero gradevole, le farciture con prodotti di ottima qualità. Meno convincente la tonda, infatti se la margherita estiva convince nel dosaggio degli ingredienti, l'impasto ci lascia qualche piccolo dubbio, risultando troppo invasivo nel rapporto con il condimento. Si può usufruire di un bel dehors per godere in pieno del quartiere Prati. Il servizio è premuroso e pieno di attenzione per i clienti, i prezzi nella media cittadina.
---
The Osteria di Birra del Borgo is a multifunctional establishment with a wide range of selections on its menu.  Salads, panini, fresh pasta and grilled options can all be found here.  For the pizzas, the proposal has been entrusted to Luca Pezzetta for years. Now a new course. The work on the sheets of pan pizza is notable.  They have a very pleasant crunch and are topped with top-quality products.  The round pizzas are less convincing.  The summer margherita is well-balanced in the amount of toppings, however the dough leaves a few question marks.  Its flavor is too invasive with respect to the toppings.  An outdoor dining area is available where you can fully enjoy the Prati quarter.  The service is considerate and very attentive to the customer.  The prices are within the average for the city.