Odori
28° 50 Top Pizza Europa 2023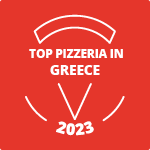 ---
Il locale è molto carino, non troppo grande e con un delizioso spazio all'esterno. Il bancone bar è molto
bello e sempre pieno della movida di Atene. Ci sono varie proposte per ogni ora del giorno a partire dalla
colazione, con un brunch domenicale molto azzeccato. Le pizze sono di stile napoletano contemporaneo,
con il cornicione gonfio, ma non spaventatevi perché leggero, e pieno d'aria all'interno. Le farciture ci
convincono con abbinamenti in contrasto sempre bilanciati come la Bloody Burrata, con la dolcezza del
latticino e la salsa di pomodoro molto piccante o la pizza con gorgonzola, fior di latte, provola e pomodori
ciliegini. Buona la selezione di vini, fantastici i cocktail. Prezzi nella media cittadina e il personale molto
cordiale completano l'offerta del locale.
---
The venue is very nice, not too big and with a delightful outside space. The bar counter is very beautiful and always full of the Athens nightlife. There are various proposals for each hour of the day starting from breakfast. They also have a spot on Sunday brunch proposal. The pizzas are in the contemporary Neapolitan style with a high crust and don't fear the curst is full of air inside. The toppings have won us over, with contrasting combinations but that always result balanced like the Bloody Burrata, with the sweetness of the dairy product and the very spicy tomato or the pizza with gorgonzola, fior di latte, provola cheese and cherry tomatoes. There is a good selection of wine and fantastic cocktails. The prices are in the city average and the staff are very cordial and this completes the offer proposed by this venue.