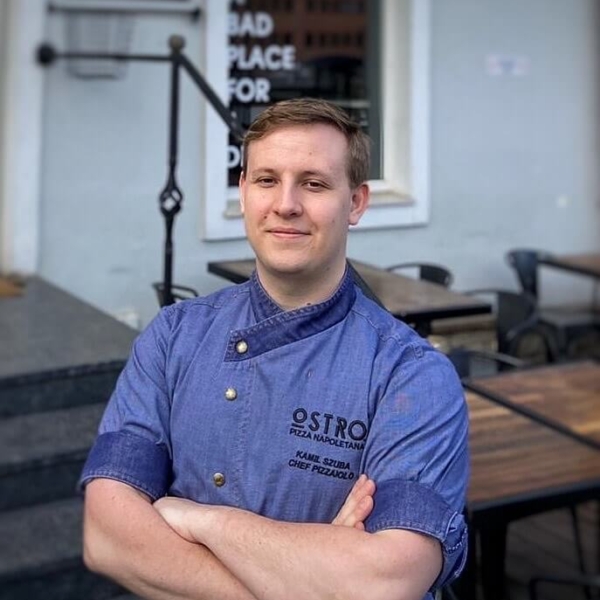 Ostro.
28° 50 Top Pizza Europa 2022

---
In quella Danzica, città portuale sulla costa baltica della Polonia, in cui il sindacato autonomo dei lavoratori "Solidarietà" (Solidarność) diede vita ai primi scioperi contro il regime totalitario comunista, questa piccola, deliziosa pizzeria, curata nei particolari, offre pizze di stile napoletano contemporaneo. La posizione è invidiabile, sul canale. Il cornicione a molto alto, ben lievitato e i condimenti sono di buona qualità. Da provare sicuramente la Diavola, ma anche il panuozzo, una vera chicca, difficile da trovare fuori da alcuni luoghi della Campania. Tra i dessert consigliato lo sgroppino al limone, ottimo anche il caffè espresso. Il servizio è molto gentile e premuroso. I prezzi sono più che accettabili.
---
In Gdansk, a port city on the Baltic coast of Poland, where the autonomous union of workers called "Solidarność" (Solidarity) gave life to the first strikes against the totalitarian communist regime, this small, delicious pizzeria, with great attention to detail, proposes contemporary Neapolitan style pizzas. The location is enviable, right on the city canals. The crust is very high, the dough is well leavened and the toppings are of good quality. You must definitely try the "Diavola" (the hot pepperoni) as well as the panuozzo, a real find here, since it is sometimes difficult to find even just outside of Campania, Italy. Among the desserts, the lemon sgroppino is definitely recommended; the espresso coffee is also excellent. The service is very kind and attentive. Prices are more than acceptable.