Ostro.
34° 50 Top Pizza Europa 2023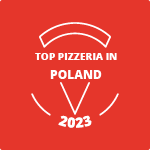 ---
Siamo a Danzica, città portuale sulla costa baltica della Polonia, in cui il sindacato autonomo dei lavoratori "Solidarietà" (Solidarność) diede vita ai primi scioperi contro il regime totalitario comunista, questa piccola, deliziosa pizzeria, curata nei particolari, offre pizze di stile napoletano contemporaneo. Cornicione alto, molto leggero, ottime la Capricciosa e la Diavola, particolari e convincenti la pizza con pere e gorgonzola e quella con la nduja. Ottimi i cocktails, dalla Pina Colada al Cosmopolitan, all'immancabile Spritz. Servizio veloce e premuroso.
---
We are in Danzig, a port city on the Baltic coast of Poland, where the autonomous union of workers "Solidarity" (Solidarność) gave life to the first strikes against the totalitarian communist regime. In this small pizzeria, delicious pizza is made with attention to detail. The pizzas are made in both Neapolitan and modern styles. The crust is high, and very light. The Capricciosa and Diavola are excellent and the pizza with pears and gorgonzola and the one with nduja are particularly convincing. The cocktails are well-made from the Pina Colada to the Cosmopolitan including the inevitable Spritz. The service is fast and thoughtful.