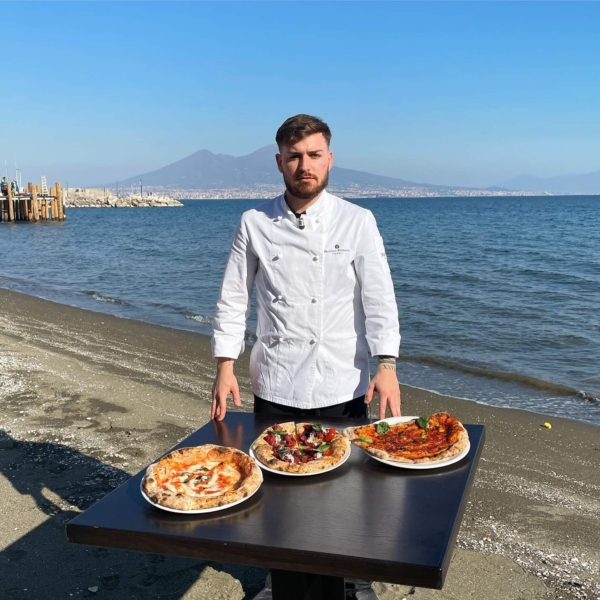 Palazzo Petrucci Pizzeria
---
47° 50 Top Pizza Italia 2022
Giovane dell'Anno 2022
Ooni Award

Davide Ruotolo
---
Gustare un'ottima pizza guardando l'obelisco di San Domenico Maggiore e sorseggiando una birra artigianale qui è un'esperienza: il locale offre una bella terrazza sulla piazza e una selezione di pizze fatte con ingredienti di qualità. La "Pizza Palazzo Petrucci" – che prende il nome dal locale rispolvera e ripropone il ragù, simbolo della tradizione napoletana così come la Tarallo che alla dolcezza dei pomodori datterini e alla cremosità del pesto di basilico, abbina a crudo, i taralli spezzettati.
Impasto soffice e leggero, gustoso e digeribile. I dolci sono da assaggiare: dalla stratificazione di pastiera al babà e al tronchetto al cioccolato con scorzette di arancia. Servizio Ottimo.
---
Enjoying an excellent pizza with a view of the San Domenico Maggiore obelisk while sipping an artisan craft beer is quite an experience, and you will find it here.  The establishment has a lovely terrace overlooking the piazza and a selection of pizzas made with quality ingredients.  The Pizza Palazzo Petrucci, that takes its name from the establishment, is made with ragù, a symbol of the Neapolitan tradition.  Another we recommend is the Tarallo that has sweet grape tomatoes, a creamy basil pesto, prosciutto and crumbled taralli.  The dough is soft and light, tasty and digestible.  The desserts also need to be tried:  from the layered pastiera to the rum babà, and the chocolate trunk with orange peel.  The service is excellent.