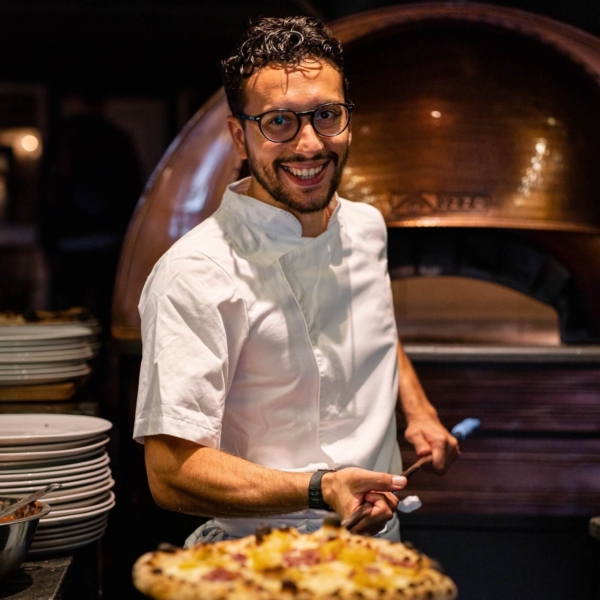 Pizzeria Luca
68° 50 Top Pizza World 2022
---
15° 50 Top Pizza Europa 2022
---
Pizzeria Luca si trova nel cuore del centro storico di Copenaghen lungo i canali, beneficiando della posizione centrale per attirare molti amanti della pizza.
Lo chef Gioacchino porta nel ristorante il carattere fresco e aperto dell'ospitalità siciliana, è lui l'host, e oltre al servizio intenso, si assicura che tutti siano accolti e ben curati.
La pizzeria offre uno spazio intimo e accogliente arredato in uno stile nordico minimalista.
L'impasto è lievitato per 72 ore, il risultato è una pizza moderna con una crosta leggermente più alta, preparata alla perfezione con prodotti rigorosamente italiani.
Oltre al buon servizio, c'è un buon assortimento di bevande, con un'ottima carta dei cocktail. I prezzi sono ragionevoli considerando che Copenaghen è una città costosa.
---
Pizzeria Luca is located in the heart of the historic center of Copenhagen along the canals.  Its central location is advantageous in attracting a fair number of pizza enthusiasts. Chef Gioacchino brings his warm and friendly Sicilian hospitality to the restaurant.  He is the host and ensures that everyone is made to feel welcome and is well taken care of, even when it is busy. The pizzeria has a cozy and welcoming atmosphere.  The interior is decorated in a minimalistic Nordic style.  Their pizza dough is leavened for 72 hours and they serve a contemporary-style pizza with a slightly higher crust.  It is baked to perfection and made using strictly Italian products. In addition to excellent service, there is a good assortment of drinks, with an excellent cocktail menu. The prices are reasonable considering that Copenhagen is an expensive city.