Granzi Pizzerie 2021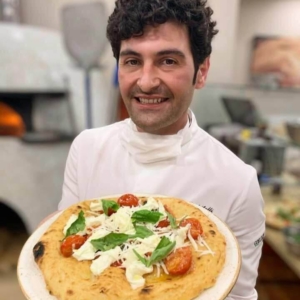 68° Pizzeria Luigi Cippitelli
Si parcheggia comodamente davanti al locale. Il forno nell'ampio ingresso trasferisce subito calore e voglia di pizza, specie se si sbircia Luigi che stende la pasta sul banco e il fratello Marco che aggiunge gli ingredienti a crudo, alle pizze sul pass.
La sala è divisa in vari settori, tutti adeguatamente ampi a garantire il giusto distanziamento e una comoda seduta dei clienti e per il servizio. La pizza in stile napoletano ha un impasto morbido e digeribile. La scelta di affidarsi a prodotti di qualità del territorio ripaga due volte: una perché il sapore delle pizze è ottimo e poi trasmetti ai clienti i sapori e le tradizioni proprie del Vesuvio. Servizio cordiale ed efficiente.
---
You can conveniently park right in front of this pizzeria. When you walk in, you feel the heat of the oven, which is near the large entrance, and it immediately whets your appetite for pizza. Your attention is then drawn to Luigi.  He will be found spreading the dough on the pizza counter while his brother Marco adds the raw ingredients to the pizzas. The dining room is divided into various sections.  They are all adequately spacious to ensure proper distancing, comfortable seating for the customers and easy access for the waitstaff. The Neapolitan-style pizza has a soft and digestible dough. The choice of relying on quality local products pays off on two levels: the pizza is excellent and the tradition of the Vesuvius and Neapolitan pizza is kept alive for your customers. The service is friendly and efficient.