3° 50 Top Europe 2020
Bijou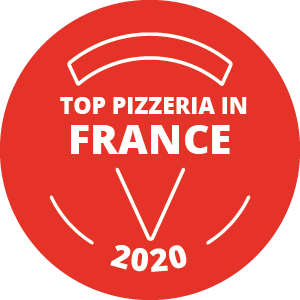 Pizza dell'Anno 2020
PASTIFICIO DI MARTINO AWARD
Futuro di Marinara
Locale raffinato nel cuore di Montmartre dai lampadari scintillanti e ricercate decorazioni. Elegante il personale che accoglie in maniera sobria e professionale.
Pizza "gourmet" che arriva in tavola tagliata a spicchi con gli ingredienti accuratamente disposti dopo la cottura. Una novità per i francesi ancora legati allo stereotipo della tipica pizzeria italiana. Qui si entra in un'altra categoria con proposte che variano da un mese all'altro. Sempre con ingredienti abbinati in modo inatteso. Inoltre una carta di vini italiani degna di uno stellato.
Gennaro Nasti, dopo i suoi 3 locali, Popine, Popinette e Popine St Sauveur, continua a difendere una visione della pizza che sembra non avere limiti, riuscendo a rendere raffinato un impasto di farine integrali e semi-integrali, 100% bio. Sua anche la creazione di un impasto con Champagne dal risultato leggerissimo, soffice e croccante.
---
This is a sophisticated establishment found in the heart of the Montmartre area, with glittering light fixtures and refined décor. The staff welcome the customers with elegance and sober professionalism. The "gourmet" pizza arrives at the table cut into slices with the ingredients carefully arranged after cooking. This is a novelty for the French, who are still attached to the stereotype of the typical Italian pizza. Here, instead, we are dealing with a different category with proposals which change from one month to the next. They are always presented with ingredients in unexpected combinations. Moreover, there is an Italian wine list worthy of a Michelin-starred restaurant.                                    Gennaro Nasti, after his 3 establishments in Popine, Popinette e Popine St Sauveur, continues to defend his vision of the pizza which seems to know no limits. He has succeeded in making a sophisticated dough from 100% organic whole-wheat and semi whole-wheat flour. He has also created a dough with Champagne which is exceptionally light, soft and crusty.